Go to top of page
*For an updated story regarding this topic there is news on how improved new procedures will remain at the Local Court following the easing of COVID-19 restrictions.*
NT Courts and Tribunals are moving to ease restrictions that have been in place for several weeks as a result of the COVID-19 situation.
As part of the new measures Supreme Court jury trials are expected to resume on 22 June this year, after they were suspended on 25 March.
From 1 July the Local Court will again hold proceedings in the Circuit (Bush) Courts, subject to the cancellation of Biosecurity Act restrictions.
The below information spells out changes to COVID-19 restrictions. Courts are, however, taking a precautionary approach and information may change as the circumstances require.
Local Court
•    On 18 May there will again be physical court appearances with court cells reopening for some matters in Darwin, Katherine and Alice Springs. Physical distancing rules of 4sqm per person and 1.5m between people will be maintained in court facilities.
•    Court Registrar and front counter services will resume.
•    Tennant Creek Local Court is due to resume operations on 1 June.
•    From 1 July non-custody hearings will recommence and courts will again be able to run proceedings in Circuit Courts (subject to the cancellation of Biosecurity Act restrictions).
•    Some changes made in recent weeks will remain, including e-filing of documents and the hearing of bail applications on country. Consent applications will be heard in Chambers.
Working Instructions Resumed Service Plan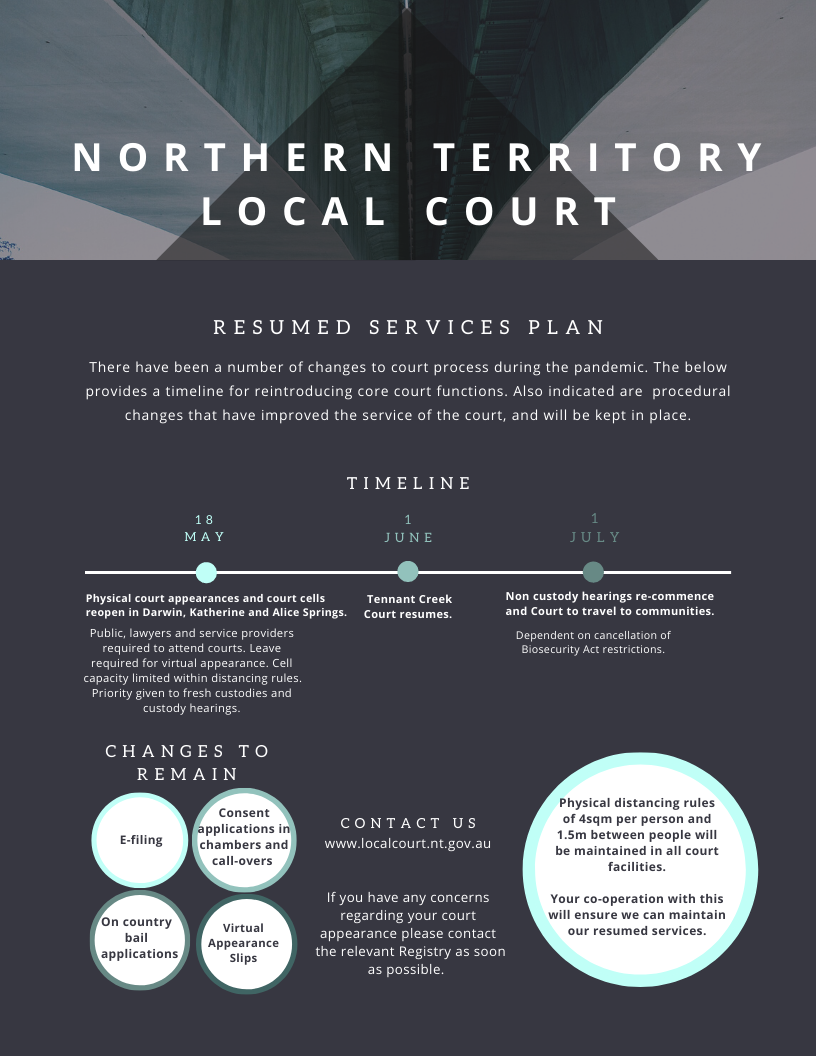 Supreme Court
•    Jury trials due to resume from 22 June.
•    Registries will re-open on 15 June.
•    People in custody will continue to appear in court via audiovisual link, except during trial.
•    The Temporary Practice Direction for electronic filing of lodgement in criminal matters will continue with amendments to give practitioners the option of filing or lodging in that form.
•    The Temporary Practice Direction providing for electronic filing in civil matters will continue until the commencement of electronic filing under Odyssey (currently scheduled for October 2020).
NTCAT
•    NTCAT has announced it will commence creating new listings for matters that had been deferred as a result of earlier COVID-19 restrictions.
•    From 18 May the requirement for remote participation at NTCAT listings will cease and parties wishing to participate at a listing by remote means will need to make an application to do so. 
•    NTCAT has also recommenced processing new applications (including applicatioins that had been held in abeyance under the earlier restrictions).
•    NTCAT remains unable to accept hard copy documents and people will need to submit any documents via electronic means.
•    NTCAT registries opened to the public last week.
More information:
Xavier La Canna (Courts and Tribunals public relations officer) 0447 286 342